Source: Prepare For Change | By Edward Morgan July 26, 2020 DEADLY COVER UP: Fauci Approved Hydroxychloroquine 15 Years Ago to Cure C...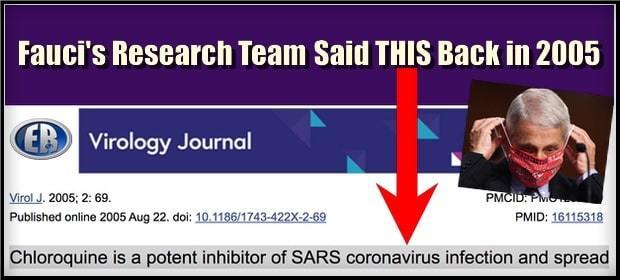 Source: Prepare For Change | By Edward Morgan
July 26, 2020
DEADLY COVER UP: Fauci Approved Hydroxychloroquine 15 Years Ago to Cure Coronaviruses; "Nobody Needed to Die"
ER Editor: Hydroxy, or the banning of it by the medical establishment, is really key to the whole plandemic.
This piece, complete with podcast, was issued by True Pundit on July 2, 2020, which was a reissue of a piece by Bryan Fischer for OneNewsNow on April 27, 2020 with additional links.
Here is the 'blockbuster' article that Fauci's team published on August 22, 2005: Chloroquine is a potent inhibitor of SARS coronavirus infection and spread..We also recommend this piece from yesterday by Zerohedge as a reminder of hydroxychloroquine's immense usefulness, titled Yale Epidemiologist: Hydroxychloroquine Could Save 100,000 Lives If Widely Deployed. And this quotation from a recent piece by Thierry Meyssan titled The slow disintegration of the Republic in France:
According to him (ER: Marseille Professor Didier Raoult), Neil Ferguson is an impostor; the Scientific Council – from which he (Raoult) resigned – is manipulated by conflicts of interest with Gilead Science (Donald Rumsfeld's former firm); in an emergency situation, the role of doctors is to treat, not to experiment; the results of doctors depend on their conception of their profession, which is why patients entrusted to hospitals in Paris were three times more likely to die than those entrusted to hospitals in Marseille.
(Read Full Article: https://prepareforchange.net/2020/07/26/deadly-cover-up-fauci-approved-hydroxychloroquine-15-years-ago-to-cure-coronaviruses-nobody-needed-to-die/)
______________________________________________________
Guest Posting
If you wish to write and/or publish an article on Operation Disclosure all you need to do is send your entry to UniversalOm432Hz@gmail.com applying these following rules.
The subject of your email entry should be: "Entry Post | (Title of your post) | Operation Disclosure"
- Must be in text format
- Proper Grammar
- No foul language
- Your signature/name/username at the top
______________________________________________________
Newsletter
If you wish to receive the daily Operation Disclosure Newsletter, you can subscribe here.
______________________________________________________
Our mission at Operation Disclosure is to bring you important news events and raw intel from various sources focused on exposing the Deep State/Cabal and their downfall. We are also focused on disclosing our lost ancient origins and extraterrestrial contact.
Disclaimer: All articles, videos, and images posted on Operation Disclosure were submitted by readers and/or handpicked by the site itself for informational and/or entertainment purposes. All statements, claims, views and opinions that appear on this site are always presented as unverified and should be discerned by the reader. We do not endorse any opinions expressed on this website and we do not support, represent or guarantee the completeness, truthfulness, accuracy, or reliability of any content posted on this website.
Copyright © 2020 Operation Disclosure