Benjamin Fulford Interview: Corona Virus trail leads to Netanyahu February 14, 2020 Source: Prepare For Change | By Richard Small I...
Benjamin Fulford Interview: Corona Virus trail leads to Netanyahu
February 14, 2020
Source: Prepare For Change | By Richard Small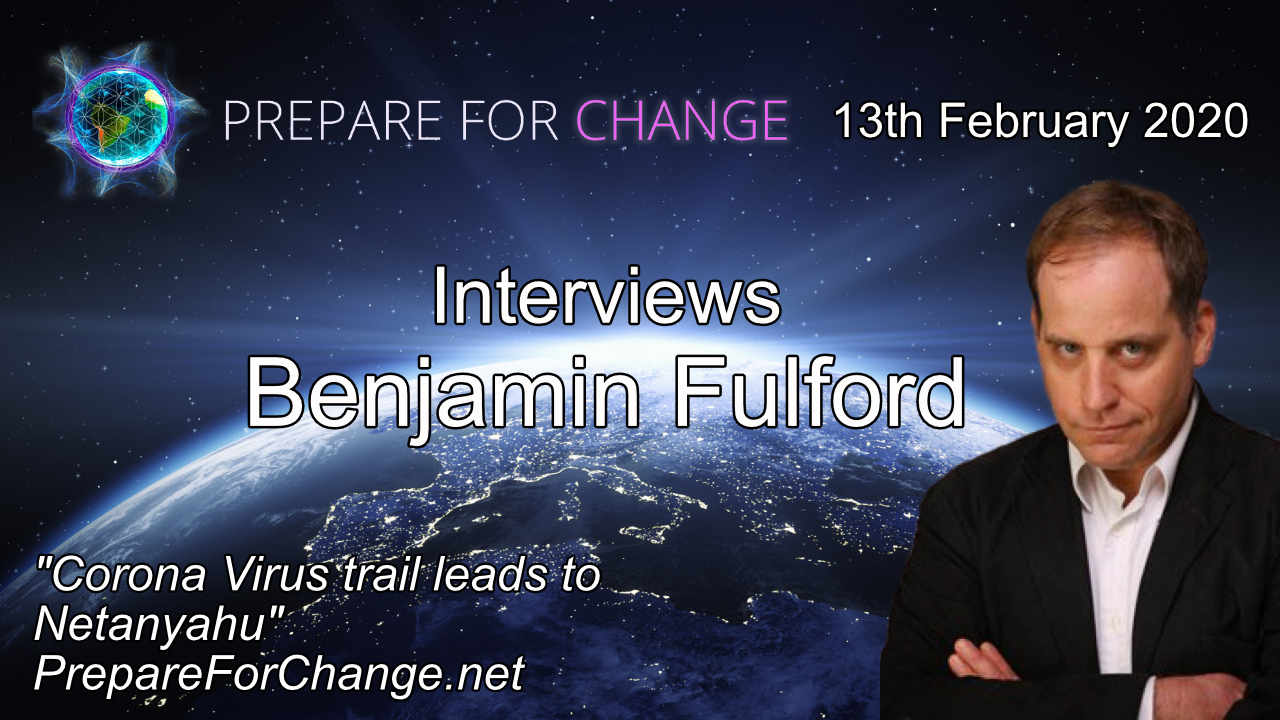 In today's interview recorded on the 13th February 2020, we catch up with Benjamin to discuss what's going on. There appears to be a breakdown of communication of higher-level groups that were negotiating earlier this year. Furthermore, what we're seeing playing out with Corona Virus is a Bio-Weapon and there are indicators that a trail leads to Israeli PM Benjamin Netanyahu! The user deadline has basically come and gone without so much as a deal since there is now complete radio silence. Clearly, operations are afoot. Brexit is bigger than the UK & Europe and has global ramifications. There is some very interesting news about the Royals in the UK and the potential path of ascent for the crown. Ukraine corruption is blowing up big time and many are being exposed. Also, Qanon getting another round of MSM conspiracy bashing whilst some key players are screaming all indicates big things are looming on the near horizon.
For a list of our past interviews with Benjamin, please go here: https://prepareforchange.net/category/interviews/benjamin-fulford-interviews
Keep on seeking the truth, rally your friends and family and expose as much corruption as you can… every little bit helps add pressure on the powers that are no more.
As always try to raise your vibration and remain loving to one another, we're all one, and we're all going to bring about a new world!
For more direct information from Benjamin please see his website:
https://benjaminfulford.net & https://fulfordshop.com
______________________________________________________
Guest Posting
If you wish to write and/or publish an article on Operation Disclosure all you need to do is send your entry to UniversalOm432Hz@gmail.com applying these following rules.
The subject of your email entry should be: "Entry Post | (Title of your post) | Operation Disclosure"
- Must be in text format
- Proper Grammar
- No foul language
- Your signature/name/username at the top
______________________________________________________
Newsletter
If you wish to receive the daily Operation Disclosure Newsletter, you can subscribe here.
______________________________________________________
Our mission at Operation Disclosure is to bring you important news events and raw intel from various sources focused on exposing the Deep State/Cabal and their downfall. We are also focused on disclosing our lost ancient origins and extraterrestrial contact.
Disclaimer: All articles, videos, and images posted on Operation Disclosure were submitted by readers and/or handpicked by the site itself for informational and/or entertainment purposes. All statements, claims, views and opinions that appear on this site are always presented as unverified and should be discerned by the reader. We do not endorse any opinions expressed on this website and we do not support, represent or guarantee the completeness, truthfulness, accuracy, or reliability of any content posted on this website.
Copyright © 2020 Operation Disclosure