Benjamin Fulford Interview: The Distraction Game. Surveillance State & Pedos Freaking Out July 20, 2019 Source: Prepare For Change ...
Benjamin Fulford Interview: The Distraction Game. Surveillance State & Pedos Freaking Out
July 20, 2019
Source: Prepare For Change | By Richard Small
Republished on Operation Disclosure with permission from the author.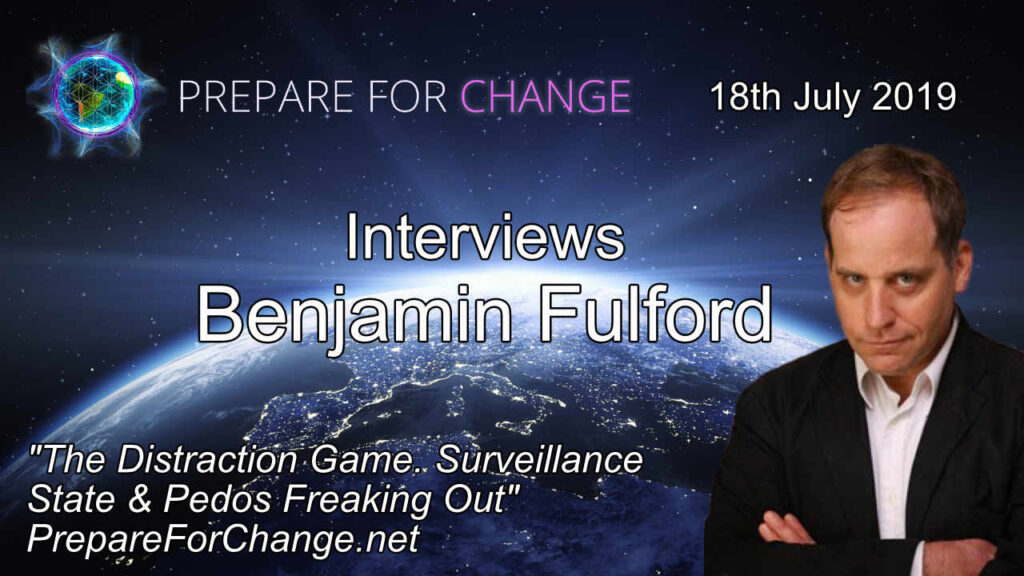 In this interview recorded the 18th July 2019 we discuss such topics as the French / British Rothschilds, Korea unification, Iran and Turkey with some history of the area. Finally, Benjamin suggests the Air Force should hide anything they don't want shown and let the 1.5 million public enter and photograph Area 51. We also cover the distraction that is the happening in politics and how we need a new system with new people who are trustworthy and competent instead of puppets reading from scripts.
Our interview series will continue after Benjamin's summer break, so expect to see new releases with Benjamin come September 2019. If matters happening in the background at the highest levels go smoothly, then we might be expecting big announcements and changes this coming fall.
The old system IS collapsing and we're seeing the death throes of the old guard. Until we're finally fully liberated, we must keep applying pressure to the old system.
For previous releases in this long-running series of interviews:
https://prepareforchange.net/category/interviews/benjamin-fulford-interviews
Let's take our cue from Benjamin Fulford and turn our world into a wonderful place!
As Benjamin says, don't just sit on the sidelines, pick up the phone and call your elected officials and respectfully demand answers to these gross atrocities that have plagued our way of life for far too long. The stronger our collective voice, the quicker we affect change.
______________________________________________________
Guest Posting
If you wish to write and/or publish an article on Operation Disclosure all you need to do is send your entry to UniversalOm432Hz@gmail.com applying these following rules.
The subject of your email entry should be: "Entry Post | (Title of your post) | Operation Disclosure"
- Must be in text format
- Proper Grammar
- No foul language
- Your signature/name/username at the top
______________________________________________________
Newsletter
If you wish to receive the daily Operation Disclosure Newsletter, you can subscribe here.
______________________________________________________
Our mission at Operation Disclosure is to bring you important news events and raw intel from various sources focused on exposing the Deep State/Cabal and their downfall. We are also focused on disclosing our lost ancient origins and extraterrestrial contact.
Disclaimer: All articles, videos, and images posted on Operation Disclosure were submitted by readers and/or handpicked by the site itself for informational and/or entertainment purposes. All statements, claims, views and opinions that appear on this site are always presented as unverified and should be discerned by the reader. We do not endorse any opinions expressed on this website and we do not support, represent or guarantee the completeness, truthfulness, accuracy, or reliability of any content posted on this website.
Copyright © 2019 Operation Disclosure