Thanks to Spygate, Trump Can Purge Corruption In One Swoop April 19, 2019 Updated: April 19, 2019 Source: The Epoch Times | By Joshua ...
Thanks to Spygate, Trump Can Purge Corruption In One Swoop
April 19, 2019
Updated: April 19, 2019
Source: The Epoch Times | By Joshua Philipp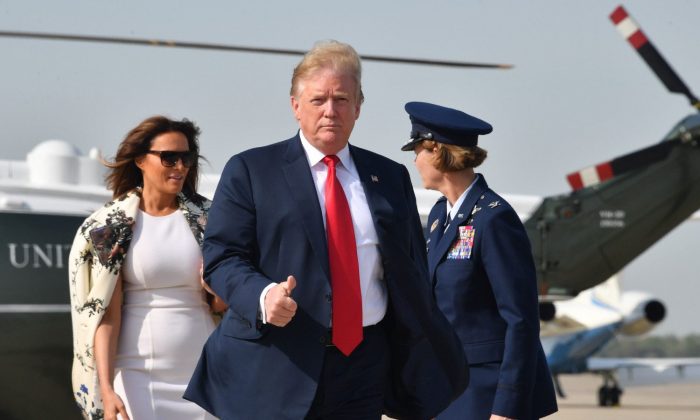 President Donald Trump and First Lady Melania Trump arrive at Andrews Air Force Base in Maryland prior to boarding Air Force One for departure to Florida, on April 18, 2019. (Nicholas Kamm/AFP/Getty Images)
Commentary
The United States is witnessing history, as a corrupt network of "deep state" career officials has been actively working against President Donald Trump and the interests of the American people.
During the 2016 elections, this network—alongside politicians, Hillary Clinton's campaign, and foreign government officials—helped create the false narrative that Trump colluded with Russia. The goal was first to prevent him from becoming president, and after that failed to undermine it as much as possible.
These people have been the source of the creation of the fake Russia-collusion narrative, unauthorized leaks, and calls for impeachment. It has sowed chaos, turned Americans against one another, and rallied a base of public support through disinformation and emotional agitation.
This Spygate scandal involved the Obama administration using the powers of spy agencies and corrupt legal systems to surveil a political opponent, in an attempt to alter the outcome of an election. The spying on the Trump campaign involved some of Obama's top officials, such as National Security Adviser Susan Rice and CIA Director John Brennan.
Meanwhile, key players in the Clinton team and the Democratic National Committee were involved in creating disinformation and spreading this throughout a network in the U.S. government and in legacy news outlets.
Yet, these attempts have so far failed. Instead, they have gathered together all the corrupt elements in the U.S. intelligence agencies, the Justice Department, the State Department, city governments, the Senate, Congress, the judiciary, non-profits, legacy news outlets, and private companies.
Spygate, and the Trump-Russia conspiracy it helped create, exposed this full corrupt network and each person involved. It has gathered together, in one place, the major figures of corruption in the U.S. government.
And the number of officials involved is not small. While key officials in the Obama administration played crucial roles in instigating and executing the investigations into the Trump campaign, officials across the government appear to have been involved.
Foreign Government Connection
The force of corrupt elements that Trump faced was not just in the United States, as even foreign governments colluded in the Spygate scandal.
Take for example the fact that the UK was sharing information it had gathered on the Trump campaign with members of the U.S. intelligence committee as early as late 2015. It was then-CIA Director Brennan who used unofficial intelligence from the UK to push the FBI to open an official investigation.
It was also a former British intelligence official, Christopher Steele, who became the main proponent of the false allegations that Trump colluded with Russia. Claims that have now been definitely proven false by the investigation of Special Counsel Robert Mueller.
And it was Australia's highest-ranking diplomat in the UK, Alexander Downer, who propelled the claim that low-level Trump campaign adviser George Papadapolous told him that he had knowledge about the fact that Russia had Hillary Clinton's emails—something Papadapolous has denied himself. Notably, Downer had played a key role in 2006 to approve a $25 million donation by Australia to the Clinton Foundation, which is one of the largest in the foundation's history.
Yet, the conspiracy that was acted out has in effect gathered all these corrupt individuals—who dared to rig an election, tarnish a presidency, and mislead a nation—and has placed them together in a single scandal to be exposed at once.
______________________________________________________
What Was Obama's Role in the Trump Investigations?
April 19, 2019
Updated: April 19, 2019
Source: The Epoch Times | By Jasper Fakkert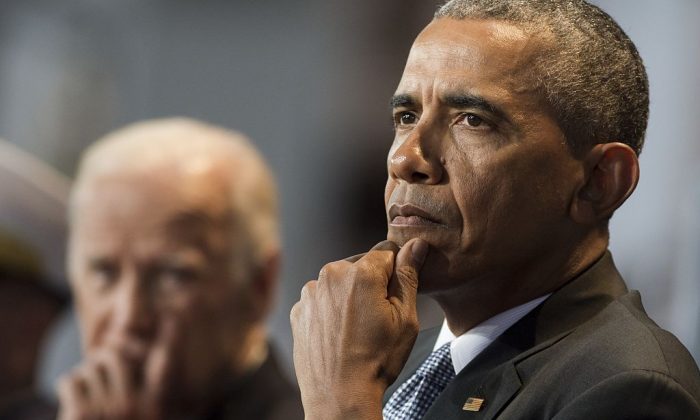 Then-President Barack Obama sits alongside then-Vice President Joe Biden at Joint Base Myers-Henderson Hall in Arlington, VA, on Jan. 4, 2017. (SAUL LOEB/AFP/Getty Images)
Commentary
Now that special counsel Robert Mueller's report has been published, we have a definite answer to the question of whether President Donald Trump colluded with Russia.
There are many questions that remain, however, about the origins of the investigation into Trump.
For example, why did the FBI investigate a presidential candidate using false information paid for by the opposing political campaign?
And why was the British government spying on members of the Trump campaign and passing this information on—as unofficial intelligence—to the CIA director at the time, John Brennan, who then used it to push FBI Director James Comey to open the investigation into Trump?
But perhaps the most significant, yet largely unexplored, question is this: What was President Barack Obama's involvement in the investigations?
We know that several senior members of Obama's cabinet either played an active role in the investigations, were spying on the Trump campaign, or received the false information that he colluded with Russia.
Obama's secretary of state, John Kerry, for example, had been made aware of the false information contained in the so-called Steele dossier. We know as much from an op-ed published by former Obama State Department official Jonathan Winer, who said he had received the information from Christopher Steele, and had passed it on to high-ranking official Victoria Nuland, who "felt that the secretary of state needed to be made aware of this material."
Obama himself had also been given a summary of the Steele dossier, which was attached to an intelligence report by CIA Director John Brennan, FBI Director James Comey, and DNI James Clapper in January 2017. It is possible Obama might have received information contained in the Steele dossier from Brennan as early as August 2016.
Obama's national security adviser, Susan Rice, along with his ambassador to the U.N., Samantha Power, had made hundreds of unmasking requests for the identities of members of the Trump campaign in intelligence reports. Power would later claim that someone else in the Obama administration had made the requests in her name.
Then there was an Oval Office meeting between Obama, Rice, FBI Director James Comey, and Deputy Attorney General Sally Yates on Jan. 5, 2017.
The meeting was recollected by Rice in an unusual email she addressed to herself, sent fifteen days after the meeting, on Jan. 20, 2017, the day of Trump's inauguration. The email was marked TOP SECRET, but parts of it have since been declassified.
In the email, Rice said, "The President stressed that he is not asking about, initiating or instructing anything from a law enforcement perspective. He reiterated that our law enforcement team needs to proceed as it normally would by the book."
This raises the question of why Obama felt it was necessary to say those things, and why Rice felt it was necessary to recollect these statements to herself in an email on the day she was leaving the White House.
Rice's email also states that Obama told the officials to be "mindful to ascertain if there is any reason that we cannot share information fully as it relates to Russia" with the incoming Trump administration. Does this mean that potentially vital national security information was withheld from the Trump transition team as it relates to Russia over the false Russia-collusion allegations?
Sen. Chuck Grassley (R-Iowa), then-chairman of the Senate Judiciary Committee, and Sen. Lindsey Graham (R-S.C.) felt compelled to question Rice in a Feb. 8, 2018, letter about the email, asking her—among other things—"Did President Obama ask about, initiate, or instruct anything from any other perspective relating to the FBI's investigation?"
Rice's lawyer would respond to the letter later that month saying she sent herself the email "upon the advice of the White House Counsel's Office."
These are serious questions that deserve to be investigated. For over two years, the American public has been sold a fake narrative that Trump colluded with Russia to manipulate the 2016 presidential election in his favor.
Getting to the bottom of how these investigations were started, what the exact actions were by officials entrusted with power—including the former president—and whether any of them were politically motivated is key to restoring public trust in our institutions.
______________________________________________________
Guest Posting
If you wish to write and/or publish an article on Operation Disclosure all you need to do is send your entry to UniversalOm432Hz@gmail.com applying these following rules.
The subject of your email entry should be: "Entry Post | (Title of your post) | Operation Disclosure"
- Must be in text format
- Proper Grammar
- No foul language
- Your signature/name/username at the top
______________________________________________________
Newsletter
If you wish to receive the daily Operation Disclosure Newsletter, you can subscribe here.
______________________________________________________
Our mission at Operation Disclosure is to bring you important news events and raw intel from various sources focused on exposing the Deep State/Cabal and their downfall. We are also focused on disclosing our lost ancient origins and extraterrestrial contact.
Disclaimer: All articles, videos, and images posted on Operation Disclosure were submitted by readers and/or handpicked by the site itself for informational and/or entertainment purposes. All statements, claims, views and opinions that appear on this site are always presented as unverified and should be discerned by the reader. We do not endorse any opinions expressed on this website and we do not support, represent or guarantee the completeness, truthfulness, accuracy, or reliability of any content posted on this website.
Copyright © 2019 Operation Disclosure